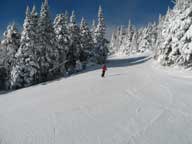 With holiday visitors departed, and bright sunshine at our doorstep, Mary and I decided it would be a good day to take a quick break to enjoy some turns on the snow at Killington.

When we arrived at the mountain, the sun was casting a festive glow upon the landscape. Unlike at the inn where things were calm, at the K1 Base Lodge the wind was blowing at a good clip. With the sun out and my heavy jacket, I did not need and extra top layer this morning. But the wind required use of a gator to keep the face covered and toasty warm.

We started the day on the K1 Gondola. We almost ended out day there as well. 4 times the wind rocked the cabin and brought the gondola to a abrupt halt. On Killington peak we made an executive decision that this would be our one and only use of the K1 for the morning; so after clicking the boots into the skis, off we went towards Bear Mountain.

The traverse between the mountains from the top of Killington past South Ridge to Skye Peak was on nice soft snow. The upper elevations of the resort clearly received their fair share of snow with the storms that swept through the area over the weekend. As we approached Bear Mountain, however, there was a destinct change in conditions.
The most obvious thing we noticed was the lack of snow in the trees. Whereas the trees on Killington Peak were heavy with snow, the trees at Bear Mountain on the lower elevations were basically clean. Surface conditions also changed quite dramatically as well. The run across the top from Killington Peak on Bear Trax was soft, machine groomed powder. Skyeburst at Bear Mountain, on the other hand, was set up with a nice mix of ball bearing and golf balls, a strong indication that precipitation at the lower elevations at Bear stayed as ice for a much longer time, while it continued to snow at the peaks. Of course after one or two more grooming cycles everything will be nice again, even at the lower elevations.

Off of Skye Peak, the snow had obviously accumulated deeper. Bittersweet was well covered. Skylark was out right deep in places. Lower Skylark was bumped up with large, soft, moguls with mostly soft snow in between. There were a couple of bottomed out troughs, but for the most part the line was soft all the way down to the bottom.

With the sunshine and good snow, it was a nice quick morning on the mountain. With hopefully many more to come as we hit the middle of the ski season.

Let it snow!