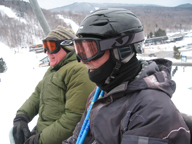 After being sidelined for over a week with an inflamed knee, this morning I went to the mountain to catch a few runs. With the exception of a heavy overcast due to an approaching storm, ski conditions were "glorious".

While most of those in attendance early this morning departed immediately for Bear Mountain, which was opened this morning for the first time this season, we exited stage left off of the Superstar quad and worked our way over to Needles Eye. We were rewarded for our efforts with 3 beautiful runs all by ourselves down Needles Eye, Cruise Control, and Bittersweet to High Road; all serviced quite quickly by the Needles Eye express quad.

Snow surfaces at Needles Eye were machine groomed packed powder. On Needles Eye itself, the surface was noticably deeper on skiers left, under the trails snow guns. However, this came at a price. On the first run, when we were by ourselves, the surface on the left was moderately soft and creamy. Several hours later, after much skier traffic, it was broken up and chunky. Skier right, on the other hand, maintained a nice smooth patina over the intervening hours. This was probably because it gave the appearance of thin cover, resulting in many fewer skiers and riders along the right side of Needles Ere. More for us to enjoy.

Once people discovered the Needles Eye pod was empty, we made the obligatory journey over to Bear Mountain. Today the resort was featuring Sky Burst for advanced skiing and riding, and Bearly for novices. Access to Sky Burst was limited to the top of Sky Peak, as Bear Trax was not opened today. Snow piles were clearly in evidence on Bear Trax waiting for a groomer to move them around. From the looks of it, it appears likely that Bear Trax would be open some time over the weekend.

Sky Burst had a groomed packed powder surface. Some marbeling was taking place in areas where skier traffic had broken the surface. Snow guns were opperating at the very top of Sky Burst, and also in the Viper Pit area. Snow guns were also seen operating on Bear Claw and parts of Wild Fire; most likely in anticipation of those trails opening some time over the weekend as well.

Before leaving the Sky Peak area, we did progressive runs down Bittersweet, Sky Lark and Superstar from top to bottom. All three were beautifully covered with the exception of some slight scratchiness on Bittersweet just below the Needles Eye quad (and I am really splitting hairs here...)Sky Lark was really nice from top to bottom. Superstar was just delightful. As we had been skiing most of the morning before hitting Superstar, we were able to basically cruise it directly from top to bottom knowing that the surface was going to be very reliable the whole way.

To close out the morning, we did 4 runs off of the Snowdon Quad. These included multiple runs down Chute, Upper Royal Flush and Mouse Run. Chute skied very nicely on skiers right near the trees. Upper Royal Flush was a little boney. Being a natural trail, we were skiing in the windblown snow against the trees on skiers right. Because skiers left was showing grass, very few had ventured down Upper Royal Flush. Ruts and I held a tight line down skiiers right, which was a lot of fun as it was a decided change from the packed powder groomers we had been on all morning.

The mountain is contining to expand terrain. Looking at the snow making assets they have deployed, I would expect the trail count to increase dramatically over the weekend. While we won't see Outer Limits, I would expect the rest of Bear Mountain to open shortly. In addition, on the Killington Peak side of the resort, work continues on Cascade, which should brought into the trail mix as well.

This weekend will see skiiers and riders descend upon the area. If you are out on the slopes, remember to be polite in the lift corrals, and respect the down hill skier or rider. Ski safe.

No matter where you may be spending this Martin Luther King Weekend however..... Think Snow!