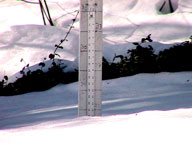 It is going to be one hell of a mud season!!!

Since St. Patricks Day I have been awol from the blog. Not intentionally, mind you; just the byproduct of picking up something nasty along the way causing me to take a break for a while. But I am on the mend and looking forward to getting back out on the slopes next week for some spring skiing.

The commercial part of the winter season is winding down at Killington. Even though there is great snow coverage on the mountain, thoughts of the summer to come have invaded the minds of many of the Killington faithful. My news feed on facebook is covered with pictures of friends down south hitting the first golf balls of the season. Most years the winter in Killington plays out this way. We have beaucoup snow to play on, yet few people to take advantage of it.

I was talking with some friends the other night about the phenomenon. We are amazed that thousands of people come out in late October and early November to hike up to one trail covered with man-made snow at the top of the mountain... but only hundreds come out in early April to ski/ride the whole mountain that is buried in feet of natural snow provided by Mother Nature....So it goes

Around the inn we are still in winter mode. A 20 inch base is firmly in place at the snow stake. Warmer temperatures are causing a little melt each day, especially around the periphery of the snow pack. But it is going to be quite a while before Mary has an opportunity to begin tilling her gardens to bring in summer flowers.
Of course, if you are in the mood to partake in some spring skiing, and Mary is reporting to me that it is fabulous, the inn is still open and accepting guests. Our restaurant will be open the next couple of weekends on Friday and Saturday evenings of you are in town and looking for a nice dinner.

After that, we will take a break ourselves. We have done a lot of upgrades to the inn over the course of the winter;(carpets, computer systems, phone system, heating system) some planned some not so much. Reviewing the upgrades, making sure we integrated them into the inn's workflow, and pushing contractors to complete punch list items will top the list of spring projects this year.

And then, of course, there is the matter of our own pursuit of the little white ball down the green fairways of Vermonts finest golf courses...

But before we do that, we have the little matter of a winter to finish.

And yes... we are digging out the sun screen so we can enjoy some spring skiing!