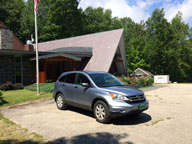 In a blog post on April 7th I commented on a recall letter I had received from Honda North America informing me about a potentially life threating problem with the Takata airbags used in my 2011 Honda CRV. I am happy to report that the problem has been addressed by Honda and replacement airbags have been installed. As a result, my Honda is back on the road.

The airbag recall was an interesting adventure. I learned a lot through the process which I will try to communicate in the rest of this post.

First, I have nothing but praise for the way Honda North America and Shearer Honda of Rutland Vermont dealt with me while they worked to correct the problem. I was taken aback by the stearn warnings of the original recall letter. Honda North America, at this point in their efforts to address the industy wide Takata Airbag fiasco, were completely transparent in their efforts to resolve the problem, and provided me with support in the form of a rental car for 3 months while parts were not available to repair my CRV. Working through their Rutland Vermont dealer, Shearer Honda, an efficient process had been put in place to support me as a Honda vehicle owner. From telephone support to the people in the service department at Shearer Honda, everyone was available with consistent advice on how to address the situation. Clearly Honda North America and Shearer Honda in Rutland did everything that they could to make a very bad situation palatable. I have no doubt that a significant portion of the profit Honda earned in initially selling me my CRV was consumed by 3 months of car rental payments to Enterprise Car Rental.

Both my driver side and passenger side airbags were replaced. I was originally notified of a problem with the driver side airbag in late March. When I brought my CRV to Shearer in July to get that airbag replaced, I was informed that a new recall was put out on my passenger side airbag. I was advised to call Honda North America about the details as I had not yet received my official recall notice. When I did, I was told by the Honda North America support person that the passenger side needed replacement as well, and NOT to turn in my rental car. Fortunately within a week, Shearer Honda was able to receive a new passenger side airbag to install in my CRV, allowing me to return my rental and take my CRV back to the inn.

In the process of doing the airbag repair, my Honda did sit unused for 3 months. I did drive it once a week around the parking lot of the inn to keep fluids moving in the car. But over the 3 months, as we are in a very wet environment, corrosion did develop on the brakes. To their credit, Shearer Honda in Rutland worked with me to fix the brake problems that developed. They could have easily pleaded some excuse for the brake problem, but to their credit they owned the fact that the car was not drivable for 3 months and repaired the problem.

If you have a Honda that is impacted by the Takata Airbag Recall, you should take it seriously. Many people across the world have died as a result of this defect. While the odds of getting into an accident are low (about 3% per year per NTSB statistics), the consequences of havng a defective airbag in your car are very high and should not be treated lightly.

From my personal experience, even though it was a very expensive process for Honda, they dealt with my situation professionally. They treated me with the utmost in respect during the whole process. For that I am grateful.

Where ever you may be this weekend, have a great time, keep it in the fairway, and don't forget your sun screen.