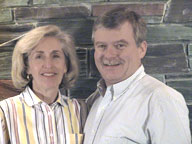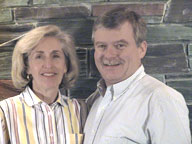 We are Bill Vines and Mary Furlong, residents of Killington Vermont and the creators and operators of killingtonblog.com.

We own several businesses in Killington, the principal of which, Birch Ridge Inc., operates this site.

Birch Ridge Inc. is a hospitality company that operates the Birch Ridge Inn at Killington. The Birch Ridge Inn is a 10 room inn and restaurant, located approximately 1 mile from the main base lodge of the Killington Ski and Golf Resort. In addition to the inn, Birch Ridge Inc. also provides, primarily to businesses located in the Killington area, hospitality marketing services including marketing consulting, web site development, internet advertising including pay per click management services, and hotel management consulting.

We moved to Killington full time in 1997 to start Birch Ridge Inc. after many years of doing a weekend commute from the Boston Massachusetts area. We both have had careers in private industry (Bill worked for Motorola, Mary for Ocean Spray Cranberries) before striking out on our own to start a business in Vermont. Bill's background includes substantial experience in computer engineering and International Marketing (Bill designed and built the software for killingtonblog.com and writes most of the articles). Mary's background includes industrial engineering and business management. When you see the first person "I" referenced in the blog, that's Bill as he does most of the writing and publishing. Other blog article contributors will usually be referenced by a tag identifying them at the end of the entry.

killingtonblog.com will primarily focus on providing information about life in Killington. Just as a matter of course, some of the information in this blog will relate to our activities as Innkeepers in Killington. We are not bashfull about the fact that we love being innkeepers and we love to promote our inn. But that is not the focus of this blog.

Hopefully, most of this blog will focus on our observations and experiences at Killington. Much of what you will read will include information on local sports and activities. (Both of us are avid skiers and golfers.) Some will relate to our personal interests (If you have ever been to our inn during the summer months, you will quickly recognize that Mary is passionate about flowers). We will also provide information on what is happening around town including plans to construct a village at Killington. And of course, there is the ongoing political situation in Killington, both local (it is a really small town after all) and within the State of Vermont (or is it New Hampshire if you have been following the news).

Feel free to contact us to give us feedback or make a contribution to the content of this site. We hope that you will enjoy our experiment with the internet and come back to read about life in Killington often.