Tuesday, Mar 13, 2018
Third Nor'Easter in as many weeks pummels Killington. This will be measured in feet!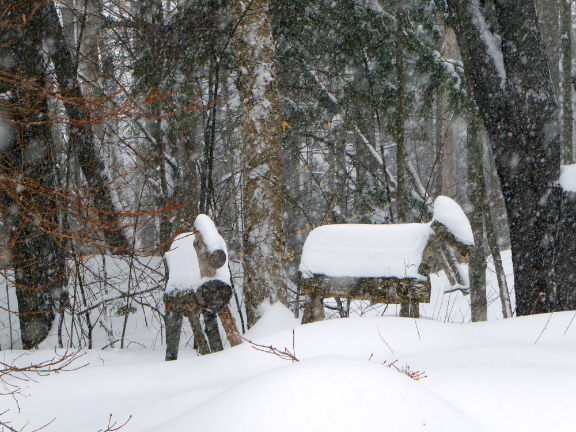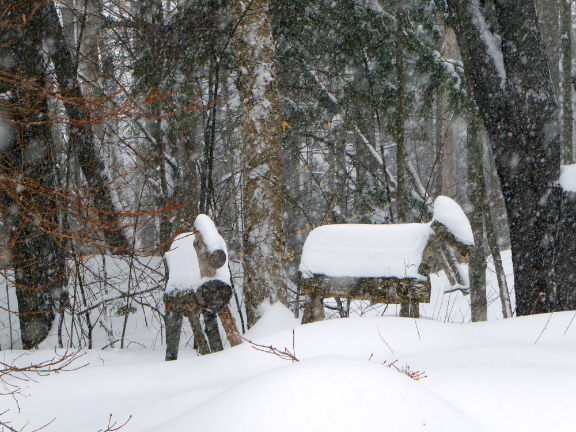 Thank You Mother Nature

For the first time in about 5 years, Killington is getting it's March storms.

When Mary and I were in a ski house (the "Suck-U-Inn"), and when were were second home owners at Killington, we always took the week of St Patrick's day off to come to ski at Killington. For many years there was always a very heavy snow storm at Killington sometime between the 10th and 17th of March. Bingo this year!

When I took the snow stake picture this morning, snow had been falling at about an inch an hour for 4 hours. The "Weather Channel", if it is to be believed, is predicting that snow will continue to fall at roughly this rate through the end of day tomorrow. Roughly 36 to 48 hours of continuous snow. While they are calling for 12 to 24 inches in total... you get the disconnect. What ever the final number is... it will be big.
Road conditions in the area are snow covered by still passable. We went out for some errands around noon time. The Killington Road in front of the inn was being regularly plowed for people to get access to the resort and local businesses along the road. Winds in the area are light, but there is some minor blowing and drifting snow because the snow itself is a very light powder.

Ski conditions at the resort the next few days will truly be "Epic". I do not uses that word lightly because many times people who do not understand Killington call a 6 inch snow fall "Epic". Todays storm is in a whole different category.

If you can get to Killington, you will be rewarded. But don't put yourself in any unnecessary risk to get here. There is so much snow coming down right now, it will stick around for a while. Tomorrow, Thursday, Friday, and the weekend should be unbelievable.

Wherever you may be, be safe. Get to Killington if you can for what should be the best skiing and riding of the season.

Get out and play!.... Think Snow!