Tuesday, Feb 26, 2013
Skiing at Killington keeps getting better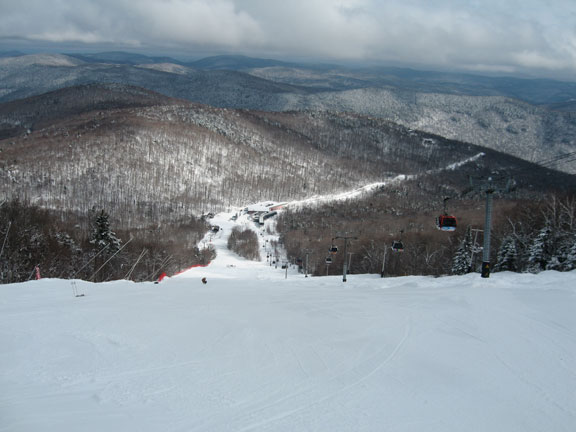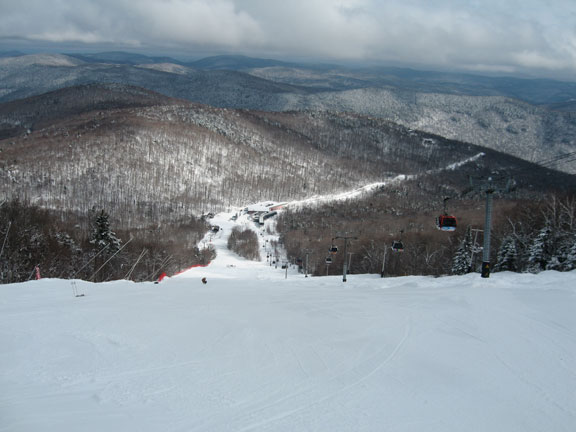 I know I have been running open loop when I unload pictures on my ski camera and the first picture in the memory card dates back 11 days to February 15th. But oh... what an 11 days it has been!

Back on February 15th, while the Valentines Day Roses were still fresh, we had 14 inches of snow on the ground outside the inn. Today the stake stands at just under 21 inches, with 5 to 8 more inches predicted by the National Weather Service for tonight and tomorrow. That 7 inches of new snow over the last week at the inn represents probably twice as much (due to altitude multiplication) on the mountain. And it is all now down on the trails as a carpet of creamy goodness waiting to be carved, or draping the sides of the trails in broad necklaces of soft bumps beaming like jewels in the nascent spring sunshine.

We have had the good fortune of being able to ski at the resort the last couple of days. Yesterday we were skiing in the clouds. One run down Superstar featured less than 2 feet of visibility with bumps that seemed 6 feet high. It was like running into a wall with the lights out (and we call this fun!). Today, for the most part, we had good visibility with traces of sunshine guiding our paths though beautiful small soft bumps dotting the trails at Killington. Both days lived up to the adage that a day of skiing is better than a day working (at least for a couple of hours before we returned to the inn to do our work).

The next few days, if the weather service is to be believed, are supposed to bring more sweet creamy snow to the mountains of Killington. Just perfect to set up some great skiing and riding as the days grow longer in March.

We hope you get a chance to get up to Killington and enjoy the great snow!

Let it snow!